Last week in part I of this post, I discussed the advantages of companies allowing some workers to work remotely, and what my transition to a remote worker was like. In this week's follow up post, I'll get a little more into the logistics of working remotely and flag some recommended practices and tools that have worked well for us.
Asynchronous is A-OK
When I first began working remotely, I bent over backwards to ALWAYS be available. I made sure my light was green on Slack and that I responded immediately to Slack messages and emails. I felt terrible if I missed a call while stepping briefly away from my desk to make coffee or eat lunch. After a few months of this, I began to realize how unnecessary it was. Not only was it stressing me out, but my coworkers and bosses didn't actually care as much as I thought they would if I failed to respond in a nanosecond. I still do my best to be available – I want to make my being remote as easy as possible for everyone at HQ – but if I need to concentrate on a proposal or financial projections document for a few hours, I simply change my status on Slack and silence notifications.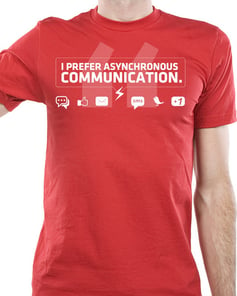 Image and design by @gauged2
Generally, workers have all grown very accustomed to instant answers to our instant questions, but I think it's worth taking a step back and realizing that asynchronous communication is actually fine in most situations. It helps to create a more calm, deliberate environment and allows employees to concentrate so they can do their best work. As Jason Fried and David Heinemeier Hansson, the founders of Basecamp, write in their new book, It Doesn't Have to Be Crazy at Work:
There are lots of ways to slice 60 minutes:
1 x 60 = 60
2 x 30 = 60
4 x 15 = 60
25 + 10 + 5 +15 + 5 = 60
All of the above equal 60, but they are different kinds of hours entirely. The number might be the same, but the quality isn't. The quality hour we're after is 1 x 60.
The authors go on to describe how many modern office workers, particularly those in open plan spaces, can feel overwhelmed with lots of micro-distractions through the day. A meeting here, a quick question that turns into 15 minutes there, a phone call, a text, a Slack conversation and before you know it, the day is over, and you feel like you didn't get anything meaningful accomplished.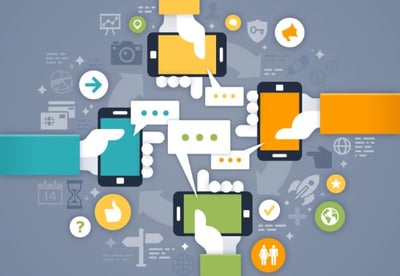 Image by The Overture Group
It doesn't have to be that way.
Having managers who trust their employees and don't expect immediate answers for every little question that comes up – whether the employee is on site or not – results in employees who are more productive and doing higher quality work.
The Right Tools for the Job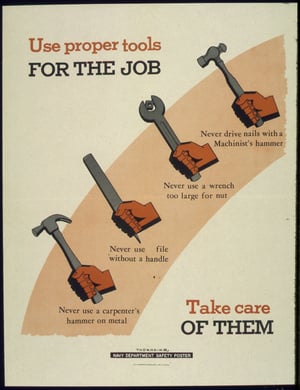 Lucky for me, due to the growing number of remote workers, there are hundreds of great tools out there that help teams stay connected and productive. Here are a few that work for both me and our organization:
Slack - Slack is the 900-lb gorilla in the corporate instant messaging space, and for good reason. Our team uses it for direct messaging, as well as different channels to share interesting industry news articles, blog post ideas, project information, and even parking spot coordination. As a remote employee, I also like that it can allow me to feel included in the latest funny meme or viral video circulating around the office.
Google Meet - Google relaunched its Hangouts for corporate subscribers as Google Meet, which is a much-improved version of the old Hangouts. It makes it incredibly easy to jump on a tele/video-conference or screenshare with one or more coworkers in different locations. Meet functionality is built right into Google Calendar, so you just tick a box, a Meet code and dial-in are generated, and then when your meeting reminder pops up, you just click the link and you're there. This means that if someone is on the road on their way to a site visit, they can join by phone with the dial-in number. The best part: it's free (well, included with the Google services we already pay for). Right now, we're transitioning out of a paid plan with GoTo Meeting for the same functionality with Google Meet that's easier to use.
High Quality Directional Microphone - Each Monday morning, we have an all-hands meeting to go over the work and deliverables for the coming week. Even before I started working remotely, people would occasionally join from offsite. It wasn't until I began working remotely that I realized how bad the internal laptop mics and speakerphones on our desk phones were. I could barely hear people who were not a couple feet from the phone or laptop. So, we invested $50 in this directional conference room mic with 180-degree coverage. Now, anyone who joins remotely can easily and clearly hear people speaking 20 feet away at the back of the room.
Todoist, Asana, and Trello - These are fantastic web-based software tools that are great for helping you stay on task and for collaborating on projects. All three below offer free as well as paid versions with more features; for most of us, the free version is more than adequate.

Todoist is fairly simple – a supercharged to-do list app that integrates with Gmail or Outlook. Several of us rely on it to keep organized.

Asana can also function as a to-do list but is more geared to small teams collaborating on a singular project or process. Our team uses it to tackle large RFPs, keep track of all the steps involved in closing completed projects, and for onboarding new employees.

Trello is, at its core, a digital Kanban board. It's a great tool to keep track of tasks and deliverables across a team. Traditionally, Kanban boards function as a way to visualize workflow with pipelines usually marked as "to-do," "doing," and "done." Trello lets you take that in many different directions – at one point we used it during our all-hands meeting, and today I use it to organize candidates for open positions at Cx Associates as they move through the recruiting process.
Companies that do not allow geographic location to limit their pool of prospective employees will be more nimble and better suited to handle the challenges of finding great, talented people in this tight labor market. Granted, not every role is perfect for a remote worker. But it's worth considering if you have positions in your company that would allow for it. Even giving local employees the option to work from home one or a few days per week can set employers apart in terms of attracting talented employees.
Back to my 10 second commute – the best part about it: it has pretty much zero negative impact on the environment! Allowing your employees to avoid their commute will do the same.
Resources and Further Reading