I had hoped to share my recent sci-fi story about future decisions that might need to be made around a demand-constrained grid in the era of extreme heat waves and self-driving electric vehicles. But, fiction is not the point of this blog. If you want to receive a copy of the story, feel free to request it – we monitor comments. In this post, I'll discuss a little of the back-and-forth we've been having regarding the New England Grid [PDF] and demand constraints.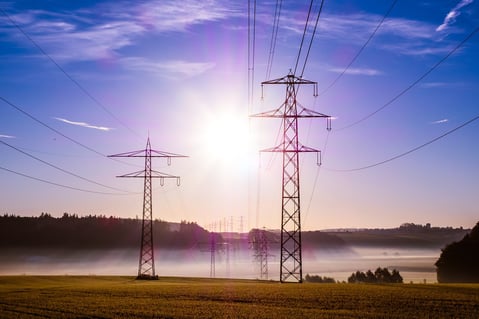 Impact of Energy Efficiency on the Grid
First, we need to recognize the huge impact that energy efficiency has had on peak demand. Energy efficiency programs have gained most of their savings from lighting efficiency over the past two decades. This has significantly reduced the grid connected lighting load and at the same time reduced air conditioning loads because more efficient lights reject less heat into the building. ISO New England, the grid operator for New England, projects a relatively flat load growth through 2025 and attributes that curve largely to the impact of energy efficiency programs, with a smaller reduction in load from solar.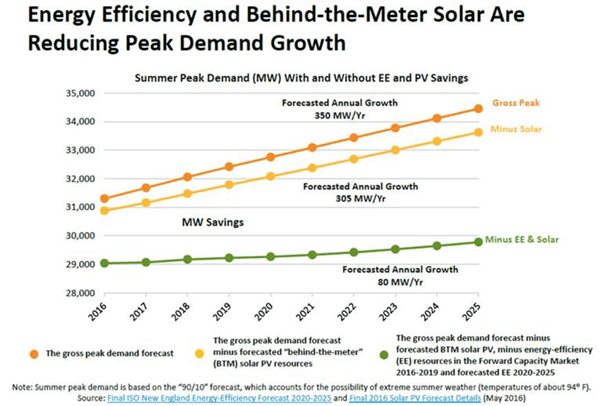 Energy efficiency is helping to control energy costs as we don't need to build the infrastructure that would have been necessary to meet 13% load growth over the next decade.
The High Cost of Peak Demand
But, what about those pesky peaks? According to ISO NE the typical weekday summer demand is between 17,500 and 22,000 megawatts (MW). But in the summer of 2006, the region's load peaked at 28,130 MW which remains the highest peak load on the NE grid.
The marginal cost of energy at peak points, when the demand for power is significantly above average, is very high. For instance in July of 2016 at 3 PM power costs rose to $230/MWh while the average cost for July was about $37/MWh. So, while there is capacity to meet peak demand, the cost of doing so is high.
LED = Opportunity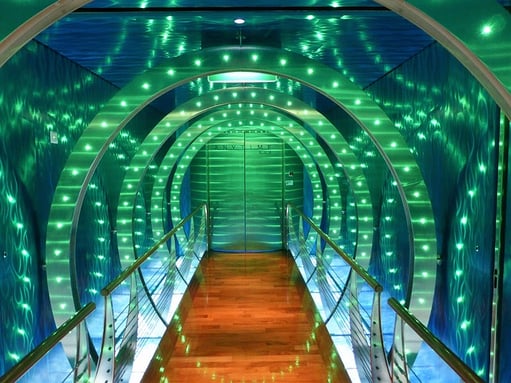 One clear opportunity we have to mesh energy efficiency and the future of demand management is to take advantage of the controllability of LED lighting. LED lighting offers a fantastic opportunity for us to have the lighting systems in every home, business and manufacturing facility available as a resource to help reduce system peaks while at the same time lowering the monthly average loads on the grid. We have a conundrum – replacing flourescent lamps with T-LED lamps is fast and cheap, but it keeps us in the dark ages in terms of making lighitng available as a resource to help moderate loads on the grid. Now is the time to invest in 21st century lighting control infrastructure so that lights are addressable, dimmable and capable of acting as a demand resource for New England.
In researching this post I found a few things I need to tweak in my story, but if you want a copy, let us know and we will forward it on to you once it is updated.