I recently had the opportunity to familiarize myself with the Energy Star Portfolio Manager system, which is a free online tool to track and analyze a building's energy usage via benchmarking. Benchmarking has been previously blogged about by Ben Fowler and Jennifer Chiodo. Certain property types (e.g., hospital, medical office building, office building, etc.) are eligible for an Energy Star score when you have at least 12 months of utility data.
Energy Star performed a large system upgrade in June and July of this year. The upgrade completely changed the interface of the site and added more useful tools to make it easier to create new properties, upload utility information, generate reports and set goals/targets. It also expanded the list of property types, which will make it easier for users to correctly define their building type. For former Portfolio Manager account holders, Energy Star was able to migrate all the projects from the previous version to the new system.
Before the Upgrade
Prior to the Portfolio Manager upgrade, all property information and utility data was manually input by the user. Depending on the amount of information being input and/or the number of properties being uploaded, this was potentially a tedious process. It also increased the chance of data entry mistakes.
New Useful Features
The new version of Portfolio Manager has many new features and changes. The following are a couple of additions to the system that I found to be very helpful in my benchmarking endeavors:
Spreadsheet Uploads
When utility data is requested, it is normally delivered in a spreadsheet format. Portfolio Manager now has a utility data spreadsheet template which can be filled out and uploaded directly to a property without any manual input. This is particularly useful when you have multiple meters to create or update and if you have a large quantity of data.
There is also a spreadsheet template for uploading multiple properties. My recent Portfolio Manager experience included creating many new properties for a client. This spreadsheet made it very easy to compile all of the information and review before performing the final Portfolio Manager upload. However, I would like to warn users that there is a section that needs to be manually inputted into the system or involves an additional spreadsheet template that is not part of the multiple property upload spreadsheet template. This is in regards to the end use details, which varies depending on the property type (see screen shots below for a medical office building). Once the properties have been uploaded using the template tool, it is important to go into each end use and add the necessary details or use the additional spreadsheet template upload. These details affect how the property is scored.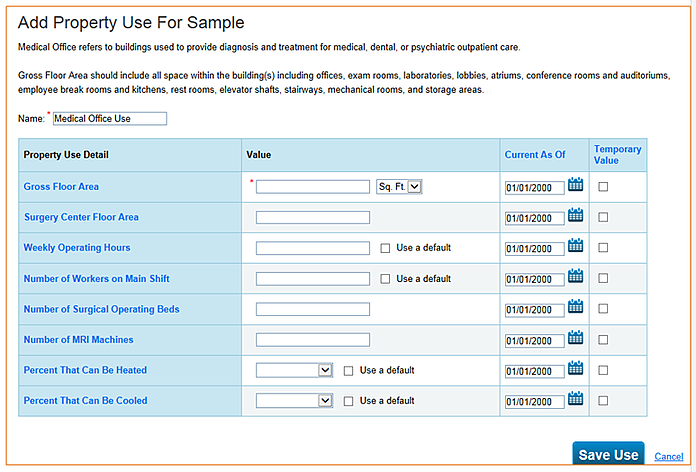 Reporting Tool
There is now a reporting tool, which allows a user to customize and create reports. The report results can be viewed directly on the site for a quick reference or can be exported into a spreadsheet format. This can include all types of information such as property details, energy usage results and metrics (i.e. site energy use, source energy use, etc. ).
Sharing
Properties and report templates can easily be shared with other Portfolio Manager users. When a property is shared, you can adjust the permissions depending on how much access you want that user to have (i.e. read only access or full access). Keep in mind that when a property is shared, the contact you are sharing it with will not receive an email notification. They will only know by logging in and reviewing their "Notifications" on the MyPortfolio tab. I recommend letting users know if you share a property with them.
Looking Forward
The new system is up and running for all to use. It still has some small glitches, which is to be expected with a new program but Energy Star is working to fix all of these issues. The Portfolio Manager Help section is a very useful tool if you're new to Portfolio Manager or curious about what other questions have been asked by other users. What are your experiences with the new Portfolio Manager?