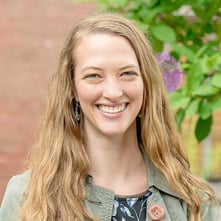 Cx Associates' engineer Krystina Kattermann was recently awarded a scholarship from the Building Commissioning Association (BCxA) Scholarship Foundation, whose mission is to "encourage and motivate qualified students, continuing education candidates, and industry newcomers to pursue study in fields of building science, including engineering, architecture, building construction, building performance, and other fields related to building commissioning."
The Building Commissioning Association (BCxA) is a membership-based international nonprofit organization with more than 1,200 members from the commercial building industry who are committed to the highest standards and practices for the commissioning process. "We're here to raise awareness of building commissioning and to empower commissioning providers, building owners, and others to optimize the built environment so families and communities can live, work, and play in buildings that are safe, efficient, and resilient."

Kattermann has been with Cx Associates since 2018, quickly advancing from an administrative role to engineer, as it was clear her interest and aptitude were well-poised for commissioning work. This scholarship will help Kattermann further her formal education in building commissioning, who came to Cx Associates with a background in microbiology and molecular genetics. She was among just five winners of the scholarship for 2021, noting "I'm very grateful to have received this generous scholarship from the BCxA. Their support of young professionals in the commissioning field is invaluable in ensuring the industry continues to grow."

Kattermann plans to use the scholarship to focus on improving her understanding of electrical and controls systems, design, and commissioning approaches through courses offered by the BCxA.
You can learn more about the scholarship and the 2021 recipients on the BCxA website.