Eveline Habermann, P.E., CEM has announced her retirement from Cx Associates after 13 years of dedicated service. Her retirement marks the end of another chapter in an illustrious career spanning over 30 years in the field of commercial and industrial buildings, project management, building commissioning, and energy analysis.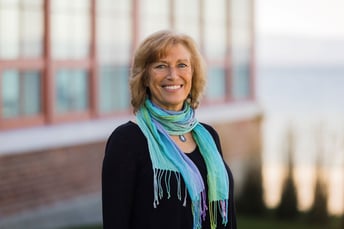 During her tenure at Cx Associates, Eveline has made significant contributions to the field of energy efficiency and sustainability. Her expertise in energy efficient building design and operation, efficiency program design and implementation, and measurement and verification (M&V) of energy efficiency measures has been invaluable to numerous projects. Eveline has also played a pivotal role in energy code development, leading efforts for the Vermont Commercial Building Energy Standards (CBES) updates in 2019 and 2023 and the Vermont Energy Code Collaborative in 2021. Her proficiency in energy modeling and energy savings analyses has been demonstrated through her work quantifying savings for the Vermont Forward Capacity Market, where she has managed the evaluation of the program for 10 years, the Consolidated Edison commercial energy efficiency program portfolio, and the NYSERDA New Construction Program Impact Evaluation which she managed for over six years.

Eveline's contributions to the field of energy management, energy audits, and indoor air quality (IAQ) in response to the COVID-19 pandemic have been instrumental in improving the performance of various buildings and facilities in the wake of increased awareness of the relationship between air quality and occupant health and safety. She facilitated the rapid completion of IAQ assessments for nearly 40 schools through the Vermont School IAQ Grant Program administered by Efficiency Vermont, served as a consultant for the City of Burlington Ventilation Improvement Program aimed at providing IAQ improvement grants for non-profits and small businesses, and presented as a technical expert for the Vermont House Committee on Education and various other organizations seeking clear, evidence-based guidelines for best practices during the pandemic.

Most recently, Eveline has helped Cx Associates launch new services including Energy Management Information System (EMIS) consulting, and decarbonization. Both services represent the evolution of Cx Associates' expertise born from decades of experience reducing the footprint of the built environment and our commitment to climate action, largely fostered by Eveline's passionate and unwavering dedication.

Technical accomplishments aside, Eveline is leaving an indelible impact on Cx Associates internally, serving as a steadfast agent for an inclusive, connected, and human-centered culture. Her genuine care for all staff and the well-being of the team as a whole is evidenced by her work intentionally improving policies and practices, staff professional development, equity and inclusion initiatives, and social culture. This care and commitment extended beyond Cx Associates to the larger community, where she is an active member in Vermont Engineers Without Borders and is a founding member of the Vermont Equity Alliance, established to "leverage our energy, power, and privilege, as businesses and individuals, to effect real, positive, and sustainable change with a focus on dismantling systemic racism in the built environment and beyond." Eveline presented with the Equity Alliance at the Better Buildings by Design conference this past April to share their work and encourage the greater AEC community's involvement in shared progress toward dismantling systemic racism in the industry.

"Eveline has been an invaluable member of our team, has played a crucial role in advancing our mission and vision, and has consistently demonstrated purposeful, caring leadership as part of the firm's management team," said Matt Napolitan, Managing Principal at Cx Associates. "Her extensive experience, technical expertise, dedication to excellence, and infectious positivity have been truly remarkable. She will be greatly missed by her colleagues and clients alike and I will dearly miss her myself."

While this chapter in Eveline's career is closing, her aspirations to advance the field of energy efficiency and equity across the industry continue. After a year of travel, Eveline plans to continue to serve in a limited or volunteer capacity advancing Cx Associates' EMIS and decarbonization services, and travel again with Engineers Without Borders. She is also exploring repurposing empty buildings into net-zero-ready affordable multifamily housing within downtown communities for the missing middle class.

Eveline's impact on the field and within the culture of Cx Associates will continue to be felt for years to come. Her legacy of excellence and commitment to advancing energy efficiency in the built environment will serve as an inspiration to her colleagues and the industry as a whole.