Cx Associates is delighted to announce the addition of Alex Holder to its team of talented professionals in the position of Engineer. Alex joins the team as a recent graduate of the University of Vermont with a degree in mechanical engineering and a minor in pure mathematics.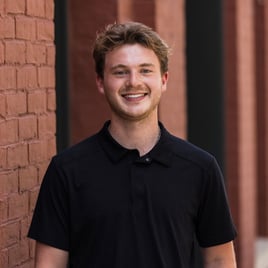 Alex's previous experience includes working as an intern and later as an assistant engineer for a renowned German-based pharmaceutical company. During this time, they played a role in refreshing lab spaces and executing facility engineering projects, ensuring the smooth operation of the site. His commitment to personal growth and professional development is exemplified by their membership in the prestigious Order of the Engineer, a testament to their dedication to ethical engineering practices.

Outside of work, Alex thrives on outdoor activities, and has a particular affinity for hiking, soccer, and skiing. At home, Alex finds joy in tending to his garden and many plants and companionship in the company a cat named Honey and a husky named Sasha.
About Cx Associates
Cx Associates has offices in Burlington, Vermont and Portland, Maine to serve clients throughout New England. Since 1994, Cx Associates has provided commissioning, measurement and verification, energy analysis, energy efficiency consulting, and other related services for over 50 million square feet of new and existing facilities. These services improve efficiency, lower costs, and provide valuable data for commercial building owners, architects, efficiency program administrators, and state regulators.