Variable Refrigerant Flow (VRF) systems are becoming an increasingly popular HVAC solution for commercial construction projects around the country. They offer many benefits that can be realized by architects, engineers, contractors, and end users. Some of the benefits include energy efficiency, flexible installation, and local controls for end users. I began my career by spending two years as sales rep for a VRF manufacturer, and the following are some observations I made during that time about issues which commonly caused problems during installation.
VRF basics
Without getting into too much detail, VRF systems can basically be divided up into four major components: outdoor units (condensing unit), indoor units (fan coils), refrigerant piping, and controls.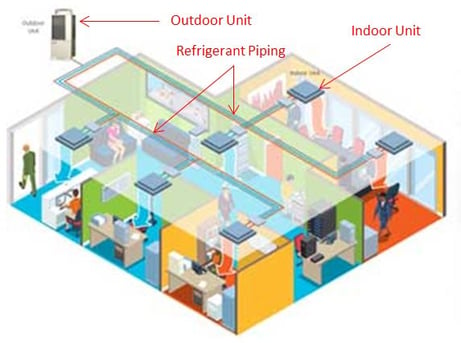 Two Common VRF System Installation Pitfalls
Refrigerant piping in a VRF system is like the piping or ductwork of traditional air or hydronic systems, and is one component where mistakes are commonly made, because the installation is different for every system that is installed. Manufacturers of VRF systems have design programs that will produce piping diagrams that show the piping layout between outdoor and indoor units and piping sizes for contractors to follow during installation. It is very important for the contractor to follow the pipe sizing and indoor unit arrangement as indicated by the design program and, if changes need to be made, to check with the manufacturer to see if the changes will have an effect on the refrigerant pipe sizing. If changes are made to the system without consulting the manufacturer, issues like reduced capacity could become a problem.


Control wiring can also be a source of issues if not installed correctly. The same design programs mentioned above will also usually produce a control wiring diagram that should be followed closely during installation. While not as complicated as refrigerant piping since the wiring does not change size from unit to unit, specifics such as wire size requirements, grounding requirements, and network topology need to be followed, and can vary from manufacturer to manufacturer.
Avoiding VRF pitfalls
VRF is a technology that offers specific benefits that can suit the needs of many types of projects. I believe what causes the most issues during VRF system installation is not consulting with the manufacturer on design changes or installation questions. Since VRF systems are very "particular" on specifics, and requirements can vary from manufacturer to manufacturer, it may require more communication with the manufacturer or sales rep during design and installation than an engineer or contractor is used to.