Energy efficiency program evaluation sounds so arcane, most people, I'm sure have no idea that there are large cohorts of people (cohort is a word we use frequently in evaluation) who spend their lives verifying the results, the savings, from energy efficiency programs. Because energy efficiency program evaluation (evaluation hence forth in this blog) is outside the realm of day to day life, most of us are completely unaware it exists. This post is about my vision for how evaluation and real life (in the commercial, institutional, industrial (C&I) building operations world in which I work) could intersect in ways that could make buildings, programs and evaluation better and lower costs for ratepayers.
Feedback Loops to Improve Efficiency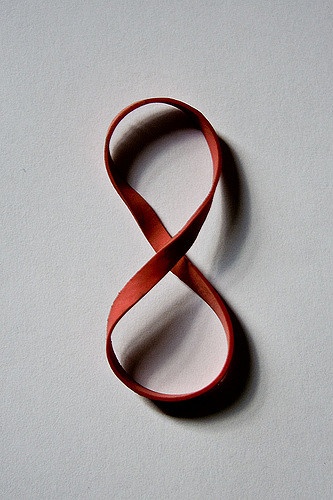 Image by Flickr user Mark Ramsay
I've written before about the need to create more effective feedback loops so that we can more effectively engage in continuous improvement of the energy efficiency services and programs we offer to C&I customers who ultimately are the largest investors in energy efficiency. I began my career as an electrical systems design engineer in San Francisco. Back in the 1980s, there was a raging AIDS epidemic and we used pencils instead of mice to draw the systems that were installed in high rise office buildings, hospitals and prisons. While we had some engagement during construction to check on the contractors, we often walked away from the site long before buildings were occupied. The mantra of my early mentors was – the best building you ever design will be the one the never gets built. Rationale – no one ever finds your mistakes; no one ever complains.
When I entered the building commissioning field it was with great hope for the expansion of the feedback loop. Commissioning provides an independent test of building system operation and corrects deficiencies in those systems. Unfortunately traditional commissioning typically ends shortly after building occupancy. What we really need is sustained feedback so that we can learn how buildings work for occupants and how well they play on the grid as we endeavor to manage the aging infrastructure of our electric grid by reducing load overall and demand during peak periods.
When I first became involved in evaluation, it was in the context of helping to figure out how to comply with the New England electric grid operator (ISO New England or ISO)'s requirements for energy efficiency demand reduction measurement and verification. ISO allows the reduction in electric load on the grid that results from energy efficiency to be treated just like the generation of power. Power generation is easy to meter while energy efficiency cannot be directly measured.
The Future of Evaluation Looked Bright
I was so excited to imagine that we were going to install meters and have continuous, real time data that would prove how much energy we were saving on every project we implement. This approach would provide owners, energy efficiency programs, evaluators and grid operators with real time data about loads and the reductions in their power consumption due to energy efficiency. I do have a good imagination and that concept turned out to be a little ahead of its time. But we are getting closer.
Some believe that the 15-minute interval meter data that utilities are able to garner with new advanced metering infrastructure necessary to modernize our grid, will provide adequate data and feedback. I suspect that may well be the case in 20 – 30 years for C&I. But the reality is that C&I buildings and systems are custom and that we actually have and should use more granular data about operations.
The Intersection of Life and Energy Efficiency Program Evaluation
C&I buildings make increasing use of building automation systems (BAS) to control HVAC systems, and increasingly such systems are able to control lighting. These are two major electric loads, and in the Northeast, the HVAC system typically includes major fossil fuel consumption as well. The BAS manages data from thousands of points throughout most medium to large sized C&I buildings. The BAS has the data, that, if mined effectively can give us a truly accurate, real-time feedback loop on building and energy efficiency performance.
As shown in the diagram below, the data from the BAS can be mined by an Energy Management Information System, which uses programming to analyze the data and provide a dashboard of actionable information to building owners and operators. In addition, this data can be used by energy efficiency programs to find and estimate the savings from upgrades, and by evaluators to validate claimed savings.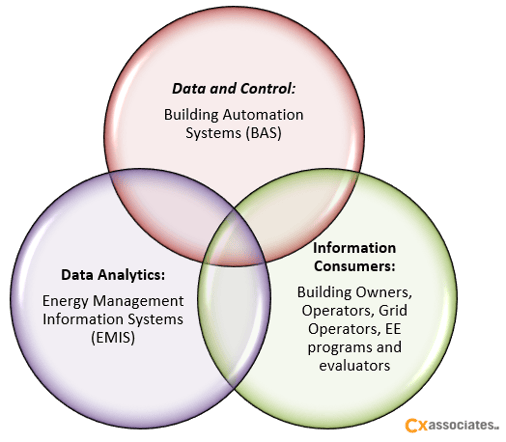 Big data is fun to say, but the reality is the consumers of big data need small packets of actionable findings so that they can continuously improve building operations and energy efficiency programs. When such systems are common, the cost of programs, energy efficiency investigations, and program evaluation will all come down. Feedback loops that support continuous improvement will be the norm. And advanced metering infrastructure (AMI) data will just be one more data point in the assessment of building performance.