During the Kyoto Protocol meetings, the world thought governments were going to lead the carbon-emission reduction efforts. But the foremost carbon-emitting countries (US included) didn't sign this protocol and, until recently, seemed content with sidestepping any commitments. Now 25 years later, the world itself is calling for change, and governments are finding grassroots support from the public as they go into the Paris Climate Change discussions. Companies world-wide are initiating energy and waste reducing measures and promoting renewable energy procurement themselves, without mandates, because they see the economic benefits. The tide has turned.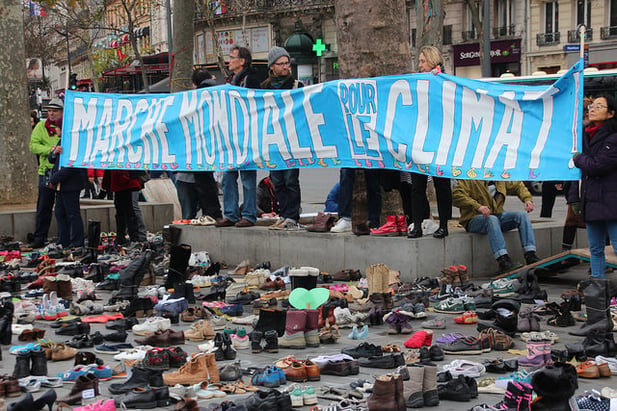 American Business Act on Climate Change Pledge
"Never doubt that a small group of thoughtful committed citizens can change the world; indeed, it's the only thing that ever has." Margaret Mead
Ok, so maybe Fortune 500 companies aren't "thoughtful committed citizens," but compared to the influence of global governments, I do feel they are a "small group" with a LOT of influence. The Obama Administration launched an "American Business Act on Climate Pledge" in July 2015 with 13 of the largest American companies committing to supporting the Paris Climate Action talks, demonstrating "ongoing commitment to climate action," and "setting an example to their peers". These pledges include company-specific goals such as:
These first companies were Alcoa, Apple, Bank of America, Berkshire Hathaway Energy, Cargill, Coca-Cola, General Motors, Goldman Sachs, Google, Microsoft, PepsiCo, UPS, and Walmart. As of December 1, 2015, a total of 154 American companies have signed this pledge, which employ nearly 11 million people, represents more than $4.2 trillion in annual revenue and have a combined market capitalization of over $7 trillion.
Trickle-down Carbon Reduction
Trickle-down economics might not have worked in our favor, but I'm optimistic for 'trickle-down carbon reduction' (my term). Companies are starting to pressure their suppliers to enact similar measures and suppliers are "having to respond to the challenge or face missing out on contracts, according to Corporate Social Responsibility and Sustainability – An Insight."
Procuring Renewable Energy
A new problem has arisen around the globe and that is the insufficient renewable energy supply. An organization called Corporate Renewable Energy Buyers' Principles was publicly launched in 2014 that represents large energy buyers with 30 million MWh of annual demand by 2020 to "spur progress on renewable energy and to add their perspective to the future of the U.S. energy and electricity system. To maximize impact and simplify complexity for corporate buyers, this work is coordinated with and complementary to other organizations working with business and renewables." As large companies are pledging 100% renewable energy goals (Goldman Sachs, Johnson & Johnson, Nike, Procter & Gamble, Salesforce, Starbucks, Steelcase, Voya Financial and Walmart, for example), the tide is indeed turning and this ship is sailing with or without a global governmental accord. That's very exciting.