Earlier this month, the New England chapter of the American Institute of Architects' (AIA) Committee on the Environment held their annual leadership summit in Burlington, Vermont. As the keynote speaker, Clark Brockman – principal at SERA Architects and a leader in his field – delivered a presentation on district scale solutions for net zero energy and water in communities.
Clark began his talk with an overview the state of green building today: the industry is moving toward outcome-based buildings with feedback mechanisms at varying scales. He said that while the technology exists for buildings to communicate about their performance at all scales, the future of green buildings lies in the development of systems to combine them all into a whole-building feedback loop.
Clark described himself as a 'recovering architect' and seemed to be frustrated with the narrow method of achieving energy and water neutrality through buildings alone. He believes a district approach is not only necessary, but is also at a more appropriate scale for managing complex resource flows, especially water.
A District Approach to Sustainability
Currently, none of our sustainable systems operate optimally at the same scale. For example, the figure below shows strategies being considered for a corporate campus currently under development in the Silicon Valley: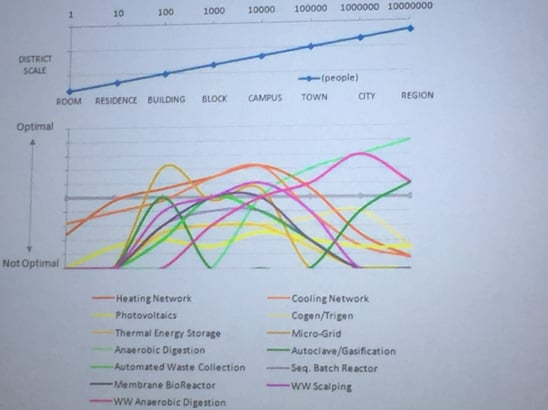 Photo by Gretchen Schimelpfenig / Slide by Clark Brockman
Clark is a promoter of the One Water concept in which "all urban water flows are recognized as potential resources, and the interconnectedness of water supply, groundwater, stormwater and wastewater is optimized, and their combined impact on flooding, water quality, wetlands, watercourses, estuaries and coastal waters is recognized" (Water Environment Research Foundation). The Earth's water cycle is a closed-loop system; we only have one 'well' of water to pull from. Now is the time to acknowledge that there is no such thing as 'waste' water. Every type of water has a purpose, and for a sustainable future, we must use the right water for the right job.
Net Zero Water
Net zero water is a requirement of the Living Building Challenge and drastic reductions in water use are a key part of the AIA's 2030 Challenge for Planning; many projects pursuing net zero site water on the building scale utilize captured rain and wastewater to supply constructed wetlands, green walls, and grey water uses. The University of Vermont has a system like this: the Aiken Center "Eco-Machine". In fact, Clark noted that universities are the best place to test district-scale systems and strategies; after demonstration on campus, the district approach can be better implemented at the city scale.
To determine how to manage water on a district level, it is crucial to map the resource flows of the community. Clark used as an example the process he and others have gone through to move the city of Portland, Oregon toward a net zero water future. To take the first step for this monumental goal, they used Tim Smith's 'Civic Ecology' framework. Civic Ecology is much like Søren Hermansen's 'commonity' concept: public engagement of experts in the community with the goal of helping them figure out what they already know.
Reforming Portland, Oregon's Water Regulations
In Portland in 2009, it was completely illegal to reuse rainwater, greywater, and blackwater. This was a big obstacle for Clark's team to overcome, and they turned to the Civic Ecology framework to map Portland's water resources and waste streams to identify inflows, outflows, destinations, and most importantly, the type and degree of appeal required to change the laws that governed the diverse water uses in the city (see figure below for the 2008 version of Portland's roadmap).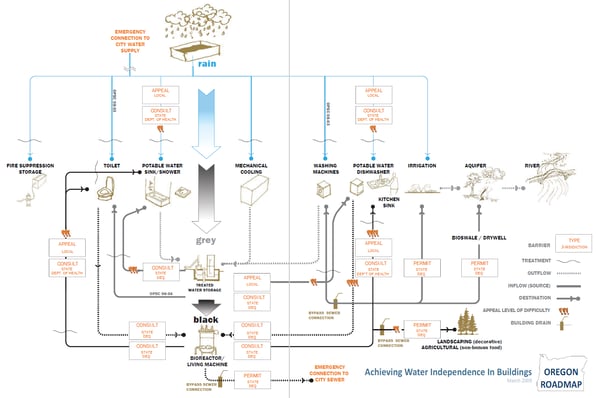 By engaging with community leaders, influential bureaucrats, and department heads – and exercising a lot of patience – they were able to dissolve obstructive laws and move on to develop solutions for the next issue: Portland's combined sewer overflows. Clark sees the 'Big Pipe' infrastructure projects as a poorly-applied adhesive bandage that fails to address the problem at hand. He cited the fact that the day the newest Big Pipe was commissioned, it overflowed (the city designed the pipe to allow for the legal limit of 4 overflows a year).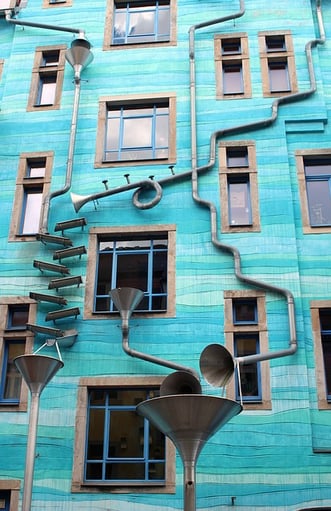 Instead of more underground sewage storage, Clark proposes creating 'purple pipe' networks for recycled water on a district scale that incentivize users to choose recycled water. Historically, purple pipe water has been reused for irrigation; high performance neighborhoods can do better and use the right water for the right job. It is equally important to size the network appropriately to minimize energy penalties for elevation changes and piping run lengths.
Clark and his colleagues have spent the last year developing the Water Reuse Practice Guide which will be published this summer. The Burlington 2030 District will benefit from this new resource and will apply the principles from this guide as the District develops water reduction strategies.