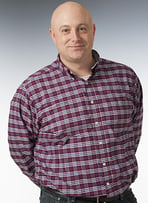 October 28, 2015 — Matt Napolitan of Cx Associates, a mechanical engineer with nearly 20 years of experience in energy efficient building design and operations, earned the credential of Certified Commissioning Professional™ (CCP™), issued by the Building Commissioning Certification Board. Commissioning is assuring that all facility systems perform with the design intent, and in accordance with the owner's operational needs.
The Certified Commissioning Professional is an individual who leads, plans, coordinates and manages a commissioning team to implement commissioning processes in new and existing buildings. As a Certified Commissioning Professional (CCP), Matt's commissioning experience ranges from major renovations, new construction, and retrocommissioning of commercial and industrial, educational, health care, and military facilities.
Certified Commissioning Professionals have demonstrated expertise, knowledge and experience in the commissioning process and technical knowledge to deliver the tasks, with the skills and abilities using the required equipment and resources. The certification requires candidates meet the mandatory experience requirements, the minimum education and training requirements, and pass a national examination from the Building Commissioning Certification Board (BCCB). Being a certified commissioning professional demonstrates mastery of the profession.
About Cx Associates
Since 1994, Cx Associates has been building energy resiliency throughout the Northeast with its commissioning, measurement, verification and energy efficiency consulting services. More than 12 million square feet of new and existing facilities have been improved and commissioned by the firm's engineers for commercial building owners, architects, efficiency program administrators, and state regulators. For more information visit www.cx-associates.com or find them on twitter at twitter.com/cxassociates.
About Building Commissioning Certification Board (BCCB)
The Building Commissioning Certification Board (BCCB) was formed in 2004 as an autonomous board of the Building Commissioning Association (BCA) for the purpose of recognizing building commissioning practitioners who demonstrate an established level of competence in the field, satisfy rigorous educational, training and experience requirements and take and pass the CCP certification examination. Successful candidates are awarded a certification and have the right to use the Certified Commissioning Professional™ (CCP™) designation. The BCCB is responsible for all aspects of the CCP Credential.
# # #