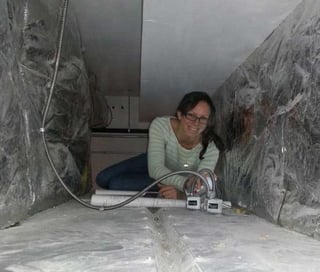 Burlington, VT — Katherine Mason of Cx Associates earned the Leadership in Energy and Environmental Design Accredited Professional Operations and Maintenance (LEED AP O+M) credential from the U.S. Green Building Council (USGBC). The LEED AP O+M specialty distinguishes professionals implementing sustainable practices, improving performance, heightening efficiency and reducing environmental impact in existing buildings through enhanced operations and maintenance..
Mason appears to be the first in Vermont and one of approximately 1,398 professionals in all of the United States to have earned the LEED AP O+M credential.
"Earning this professional credential confirms my commitment and capacity to help organizations with existing buildings to advance their sustainability goals," said Mason. "There is a growing awareness of the opportunity to cut costs and reduce the carbon footprint of existing buildings through best-in-class operations and maintenance practices."
Katherine (Katie) Mason joined Cx Associates in July 2012. She holds a Bachelor of Science degree in Environmental Engineering from the University of Vermont.
About Cx Associates
Since 1994, Cx Associates has been building energy resiliency throughout the Northeast with its commissioning, measurement, verification and energy efficiency consulting services. More than 12 million square feet of new and existing facilities have been improved and commissioned by the firm's engineers for commercial building owners, architects, efficiency program administrators, and state regulators.
About U.S. Green Building Council (USGBC)
The USGBC aims to change how building are designed, built, and operated in order to reduce their effects on the environment; which in addition benefits the community. Their LEED green building program is the most recognized certification of its kind around the globe. The USGBC consists of tens of thousands of environmentalists, corporations and nonprofits, teachers and students, lawmakers and citizens, all of whom are committed to a more sustainable and environmentally conscious world.
###