Thomas E. Anderson, 1951 – 2020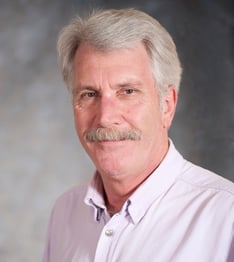 Founding Principal of Cx Associates, 1994-2013
Tom Anderson established Cx Associates in 1994, before anyone was doing building commissioning in the Northeast. He saw an opportunity to engineer better buildings and went out on his own to forge a path towards lower energy HVAC system design and operations. Tom commissioned Vermont's first LEED certified building, the ECHO Leahy Center for Lake Champlain in 2001; commissioned over 4 million square feet of new buildings; and provided design reviews for over 5 million square feet of space over the course of his career. Cx Associates, a firm dedicated to commissioning and energy efficiency, grew from Tom's one-man shop to having nine employees and a reputation as a leading commissioning and energy efficiency program evaluation provider at the time of Tom's departure from the firm in 2013.
Tom was a trailblazer in building commissioning and in recognizing the urgent need to make buildings more sustainable. Tom helped lead the establishment and growth of commissioning in the Northeast. He was active in growing the reach of the Building Commissioning Association (BCxA) through his work on its Board and committees and was a charter founder of the BCxA's Northeast Chapter in 2005.
During his tenure at CxA, Tom trained 12 engineers in the commissioning process, ensuring the firm maintained the high levels of rigor, attention to efficiency, and focus on collaborative approaches – the hallmarks of successful commissioning. Tom's vision of a firm dedicated to building performance and energy efficiency – moving buildings toward high performance and low impact – continues to guide Cx Associates today.
Apart from his passion for sustainable buildings, Tom was an animal lover – he rescued several dogs from shelters over the course of his life. He enjoyed taking them on long hikes around his wooded property in Jeffersonville, Vermont. Tom used his deep knowledge of energy efficiency to reduce the energy used in cannabis grow operations in Vermont and beyond.
Tom Anderson was a remarkable person, whose loss will be felt deeply in Vermont and beyond. A pioneer in sustainable buildings, former merchant marine, dog rescuer, beekeeper, and expert in efficient cannabis cultivation, Tom passed away on February 25, 2020.
Today, Cx Associates has grown to 14 employees and is continuing to expand through its focus on the work that Tom created the firm to undertake. Cx Associates is so proud to have Tom's legacy live on through our work.