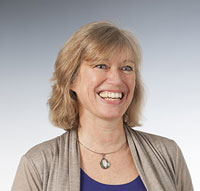 Burlington, VT – Cx Associates, a leading energy engineering consulting firm is pleased to announce that Eveline Killian, CEM, has been promoted to Associate Principal. Ms. Killian joined Cx Associates as a Senior Engineer in 2010 and has over 20 years of experience in energy efficiency and project management in the commercial and industrial sector. Ms. Killian currently leads energy efficiency improvement projects for major Cx Associates' clients, including the National Life Group, and is the project manager overseeing measurement and verification of claimed energy and demand savings for Vermont and Consolidated Edison of New York City.
"Eveline brings tremendous value to the firm," says Jennifer Chiodo, Managing Principal of Cx Associates. "She has a unique combination of engineering expertise and customer relationship skills that enable her to consistently deliver successful projects for our clients. Eveline's new role recognizes these skills and enables her to continue to expand our client base and customer service capabilities so that Cx Associates can achieve even more energy savings for our clients."
As a project manager, Ms. Killian has worked closely with design firms, building owners, and contractors to ensure a smooth and timely project flow. Her project management experience includes large industrial cleanroom new construction, pharmaceutical facilities new construction and major retrofit, commercial new construction, and energy efficiency performance contracting. Ms. Killian also has extensive experience in energy efficient building design and operation, efficiency program design and implementation, and measurement and verification of energy efficiency measures. Ms. Killian is a Certified Energy Manager (CEM) and writes about sustainability, energy efficiency, and building commissioning on the Building Energy Resilience blog.
About Cx Associates
Since 1994, Burlington, Vermont-based Cx Associates has been building energy resiliency throughout the Northeast with its commissioning, measurement & verification, and energy efficiency consulting services. More than 13 million square feet of new and existing facilities have been improved by the firm's engineers for commercial building owners, architects, efficiency program administrators, and state regulators.