Cx Associates is excited to announce the addition of Engineer Daniel Jordan to our team of engineers. While working as a manufacturing engineer, Daniel performed acceptance tests on unique and sometimes outlandish industrial process machinery. He's looking forward to drawing on this experience as he assists in functional performance testing of HVAC-R systems.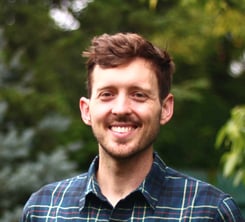 Daniel brings five years of industrial process experience to Cx Associates, including energy modeling and analysis of manufacturing, water resource recovery, and industrial process cooling. Prior to joining CxA, Daniel worked as a Commercial & Industrial Energy Consultant for Efficiency Vermont, where he performed building walkthroughs and energy audits at businesses and industrial facilities. His programming abilities in Python and SQL let him analyze large datasets quickly, and to make persistent improvements to systems.

Daniel holds a Master's Degree in Mechanical Engineering from Boston University. He has published white papers on the GHG impacts of heat pumps and industrial process cooling, and he has a strong interest in understanding the time-of-use carbon impacts of mechanical systems, all the way up the electric grid. Daniel's primary motivation is to decarbonize the built environment.
At CxA, Daniel will leverage his energy consulting experience to perform building energy audits, submeter deployments, and close readings of submittals and specifications to ensure that projects are meeting requirements. Additionally, he'll apply his programming skills towards CxA's nascent Energy Management Information System (EMIS) initiative, with the end goal of supplying automated, real-time energy insights, and even automated fault detection and diagnostics (AFDD).

"I'm really excited to join a small team that engages in focused efforts to reduce the carbon footprint of buildings. I thrive at the fine-grained level of detail that commissioning requires -- where close readings and clever testing sequences can root out potential problems and thereby provide a lot of value. I'm excited to learn from some of the best."