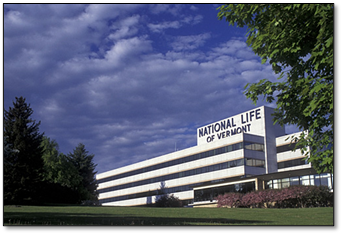 From 2011 through 2018, Cx Associates worked as the energy consultant with National Life in Montpelier, VT – the largest office building complex in the State of Vermont, measuring approximately 500,000 square feet. Our work began with a retrocommissioning study that identified building performance improvement opportunities to reduce annual electrical consumption by 18% and cut biomass fuel use by about 425 tons of wood chips per year. In addition to the resulting 770,000 kWh of annual energy savings realized by these projects, the firm is also saving 69% of their chiller operating costs from the chiller plant control sequences that Cx Associates developed in 2014. Through continuous engagement in identifying, developing, supporting implementation, and commissioning energy efficiency projects, we have helped the already Energy Star Rated facility save over 5,580 MWh and 51 million BTUs of fuel.
Specific energy projects have included:
A new energy efficient chiller,
Complete chiller plant control sequence design and commissioning,
Data center redesign and controls upgrade,
Data center free cooling design and implementation, and
Other smaller heating and cooling optimization projects.
Other services provided include an ongoing assessment of building operations and performance, collaborative identification and piloting of system upgrade projects, design and construction administration for energy upgrade measures and analysis, and verification of energy savings to maximize Efficiency Vermont support for projects.