May 1, 2015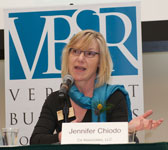 Vermont businesses don't have to choose between business success (doing well) and social responsibility (doing good). This plenary session will explore how these leaders of growth businesses are making choices that benefit their business, employees and community. Jennifer Chiodo will share her business choices and how they benefit her company. Join in the conversation of how to lead your business to success and how to make profound and enduring positive impact.
To register or for conference information.
VBSR's Annual Conference: 25 Years of Changemaking in Action
May 13, 2015 | Burlington, Vermont
About Cx Associates
Since 1994, Cx Associates has been building energy resiliency throughout the Northeast with its commissioning, measurement, verification and energy efficiency consulting services. More than 12 million square feet of new and existing facilities have been improved and commissioned by the firm's engineers for commercial building owners, architects, efficiency program administrators, and state regulators.
PLENARY PANEL
Jennifer Chiodo, Managing Principal, Cx Associates, LLC
Carina Driscoll, Co-Founder/Director, Vermont Woodworking School
Jen Kimmich, Co-Owner, The Alchemist
Moderated by: Kristin Carlson, Director of Media, Green Mountain Power