FOR IMMEDIATE RELEASE:
December 30, 2013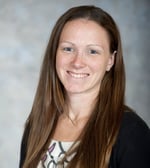 Burlington, VT – Cx Associates, a leading energy engineering firm and pioneer in the field of building commissioning, is pleased to announce that engineering technician Katie Mason, E.I., has been promoted to an engineer. Katie joined Cx Associates in July 2012 and has experience in construction management and commissioning mechanical building systems. Most recently Ms. Mason has assisted in HVAC commissioning for a new six-story hotel in downtown Burlington, Vermont; a 17,400 SF new construction building on the Vermont Air National Guard Base in South Burlington, Vermont; and has provided commissioning support for projects at Burlington International Airport and the new 54,000 square foot Green Mountain Psychiatric Care Center in Berlin, Vermont.
"We are very pleased to have Katie rise to a new level as an engineer," says Jennifer Chiodo, Managing Principal of Cx Associates. "Since coming on board last year, Katie has proven herself to be a fast learner, and has excelled in her work at Cx Associates. Her attention to detail, work ethic, and passion for problem solving will continue to bring immense value to our clients."
Mason has a broad knowledge of the LEED certification process for new construction and interior renovations, and her past experience includes construction project management and administration. Mason graduated from the University of Vermont in 2010 where she earned a Bachelor of Science degree in Environmental Engineering. She is a certified Engineer Intern and is working to achieve her Professional Engineer license. Mason writes about building commissioning and other green building issues on the Building Energy Resilience blog.
About Cx Associates
Since 1994, Burlington, Vermont-based Cx Associates has been building energy resiliency throughout the Northeast with its commissioning, measurement & verification, and energy efficiency consulting services. More than 12 million square feet of new and existing facilities have been improved by the firm's engineers for commercial building owners, architects, efficiency program administrators, and state regulators. For more information visit www.cx-associates.com or find them on twitter at twitter.com/cxassociates.
###
For additional information, contact:
Pat Heffernan
(802) 864-6710
twitter.com/CxAssociates