The term retrocommissioning, (commissioning for existing buildings), frequently rises in conversations when commercial building owners, operators and facility managers gather to talk about how to make their HVAC systems work better. There are many reasons why.
Why retrocommissioning?
Buildings account for over 40% of energy consumption in the US, including industrial buildings, and commercial building HVAC equipment accounts for nearly 40% of the energy consumed by commercial buildings[1]. Most existing commercial buildings were not commissioned during original construction, and retrocommissioning offers an ideal opportunity to reduce energy consumption and lower utility bills. For example, the controls in the commercial building HVAC systems we see range from thermostats on the wall, to sophisticated digital building automation systems (BAS). Many buildings have what we now refer to as "legacy" control systems, which include pneumatic controls as well as older digital systems. Often, older digital systems must be replaced in order to control equipment necessary to meet modern energy efficiency standards. We also see a lot of pneumatically controlled variable air volume boxes that leave the building operator essentially blind to the actual operation of the equipment and then actuators fail in the open position, meaning that many boxes and fans are continuously (and inefficiently) passing the maximum volume of air.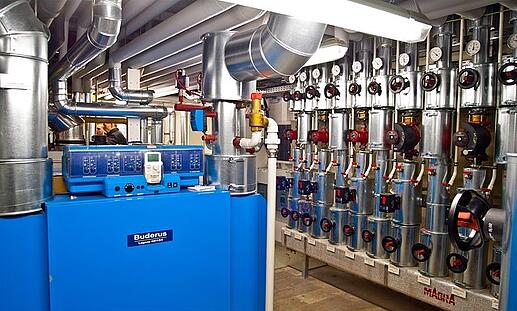 What is RCx or retrocommissioning?
Retrocommissioning (RCx) is an important means for building owners and operators to assess the current status of their BAS controls, identify short term improvements (the low/no cost measures) that can be made to improve comfort and operating efficiency, and to plan for more costly upgrades. These upgrades might include replacing legacy BAS equipment; replacing outdated central equipment such as fans, boilers and chillers; and intermediate steps such as adding variable speed control to fans and pumps to extend equipment life and lower operating costs.
How to proceed with retrocommissioning
One issue we see with retrocommissioning is that most utility programs and building operators want to go all in with a comprehensive upfront assessment of building systems, which is referred to as Phase 1 of a RCx project. A comprehensive assessment requires a significant investment of time and money before everyone on the project team has a good handle on the scope and potential of the overall project. A much more productive approach is a joint Phase 1 RCx planning process that includes the building operator, controls contractor, utility energy efficiency program engineer, and a highly qualified RCx provider. The walk through should be focused on identifying the starting point for RCx and the scope and potential savings associated with the work. After this initial assessment is done, the RCx provider should then prepare a cost estimate for the in-depth investigation of the targeted scope of work. That way everyone is on the same page from the beginning, the operator and controls contractors have some buy-in to the project, and the scope of work and priorities are clearly delineated.
This approach is most likely to yield a successful project that can be working hard for you while your team moves on to the investigation of the next system on the list.
Not at all commissioning agents are familiar or comfortable with a joint Phase 1 RCx planning process. To help you select a highly qualified commissioning provider to make your building HVAC systems perform better, just download this checklist.
---
[1]
http://newscenter.lbl.gov/2009/06/02/working-toward-the-very-low-energy-consumption-building-of-the-future/